Effective visual representation of the semantic data of 500,000 Internet resources
Thesis type
Student

Nachiketa Roy

Status

Finished

Submitted in

2011

Proposal on

12. Apr 2011 17:30

Proposal room

Seminarraum I5

Add proposal to calendar

vCal




iCal

Presentation on

18. Jul 2011 17:00

Presentation room

Seminarraum I5

Add presentation to calendar

vCal




iCal

Supervisor(s)
Advisor(s)
A bad visual representation of data confuses. For example, the pie slices on the following picture hide the actual areas from a view.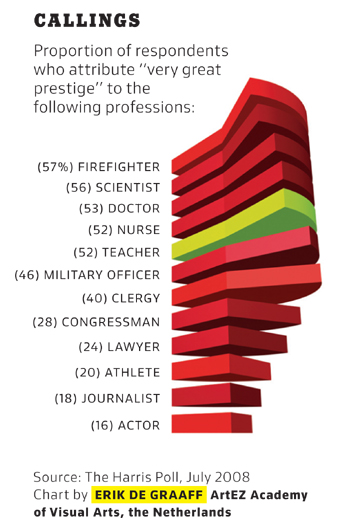 Good visual representation is currently a hot topic of internet industry companies like Google. A good example is a
Gapminder service
that uses different indicators for representing the data and naive but clear charts like the following chart showing "Health and wealth for all the countries of the world".
The other good example is a tag cloud from
Delicious service
that doesn't require a long explanation. The bigger the words are, the more often the words are used.
The main aim of the thesis is to implement appropriate visualizations of the data we produce during analysis of different media communities of our
Mediabase
and their content. The student will experiment with different types of data visualization methods. He/She can use such an experience later in his/her future career as many companies are interested in clearly understandable visualization of data.
Background:
With the help of different crawling mechanisms we are continously gathering a set of different Web media. Afterwards, different statistical methods and data mining techniques are applied to the data to create a set of metadata. Now the metadata is required to be appropriately visualized.
Literature:
A Tour through the Visualization Zoo
For more information, see the following attachment:
GapMinderWorldMap2010.jpg — JPEG image, 139Kb
Prerequisites
The bachelor thesis candidate may have be interested in GUI, exploratory data analysis, HCI and visual representation. The knowledge of SPARQL/SeRQL or Prolog is an advantage.
Related projects