News:
Special Issue on Information Management in Mobile Applications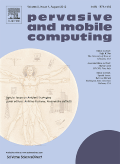 About the Workshop
Mobile devices pose tremendous challenges to the design and implementation of information systems suited for mobile environments. While users expect similar functionality on their smartphone as provided on their laptop or desktop computer, the hardware and communication platforms are still limited. Especially, data-intensive mobile applications require new ways of data management, processing, and analysis. Crucial issues include energy-efficiency, limited CPU power and storage, real-time processing, small displays, and communication costs.
The rapid development in mobile hardware and software has enabled new applications which pose new challenges for mobile data management. Improvements in the area of mobile communication and increased bandwidth provides new possibilities for exchanging and sharing data. Mobile data can have various forms, such as sensor data, user profiles & user context, spatial data, and multimedia data. Smartphones, mobile and wearable sensors, and other portable systems are used in various applications to collect, process, and exchange an increasing amount of data. Applications can run on several devices (mobile, PCs, multimedia), but the exchange, the integration, and the querying of data between these devices remains a challenging problem. This workshop aims at providing a discussion forum for recent research in this area.
The International Workshop on Information Management for Mobile Applications (IMMoA'12) is a continuation of the successful HIMoA workshop, but aims now at a broader range of mobile application fields: not only Health but also, amongst others, Business, (Serious) Games, Leisure, and Transport. The first edition of the workshop HIMoA 2011 (International Workshop on Managing Health Information in Mobile Applications) focused on data management for mobile applications in health related settings. The workshop was held on June 6, 2011 in conjuntion with the Mobile Data Management Conference (MDM) in Luleå, Sweden. The workshop comprised eight presentations and one invited talk by Upkar Varshney, Associate Professor of CIS at Georgia State University, Atlanta. The workshop was concluded by a lively discussion about the current and future challenges in mobile health applications.
The International Workshop on Information Management for Mobile Applications (IMMoA'12) targets to provide a forum for discussion about technologies and mechanisms, which support the management of mobile, complex, integrated, distributed, and heterogeneous data-focused applications.
The workshop is held in conjunction with VLDB 2012 as the workshop addresses important subareas in data management.
The call for papers with details about the topics the workshop addresses can be found here: