The Bonn-Aachen International Center for Information Technology (b-it) celebrated its twentieth anniversary with a festive colloquium November 23, 2022. b-it was founded in 2002 by Prof. Matthias Jarke together with Prof. Armin Cremers (University of Bonn) in order to revive the brain gain of outstanding international students to Germany and to pioneer formal research-oriented study programs in cooperation between state-owned universities and federal large-scale research institutions.
Since 2002, b-it has uniquely combined excellence in research with internationally renowned teaching in three master's degree programs in computer science, complemented by a b-it Research School supporting doctoral studies. b-it qualifies students from all over the world for future-oriented professional fields in the areas of life science informatics, media informatics and autonomous systems. With the support of the federal and state governments, an institution with a worldwide reputation has emerged over the past 20 years, which at the same time has an impact on the region with innovative research results and highly qualified graduates.
Nowadays, the b-it (www.b-it-center.de) brings together the Rheinische-Friedrich-Wilhelms-Universität Bonn, the Rheinisch-Westfälische Technische Hochschule Aachen (RWTH), the Bonn-Rhein-Sieg University of Applied Sciences and three Fraunhofer Institutes – the Fraunhofer Institute for Intelligent Analysis and Information Systems IAIS, the Fraunhofer Institute for Applied Information Technology FIT and the Fraunhofer Institute for Algorithms and Scientific Computing SCAI.
At the anniversary event, the founding directors Cremers, Jarke, and Witt presented their views on the history and future prospects of b-it, followed by a fascinating keynote talk "The Four Internets" by Prof. Dame Wendy Hall, former president of the ACM and professor at the University of Southampton, and by a poster competition among the b-it students.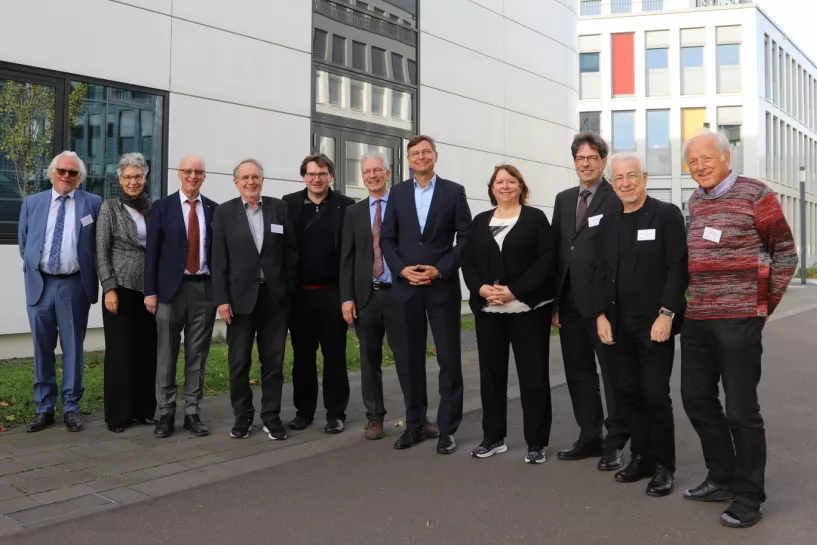 At the b-it 20 anniversary, founding directors Armin Cremers, Matthias Jarke, and Kurt-Ulrich Witt met their successors Stefan Wrobel, Stefan Decker, and Paul Plögers, and members of the b-it Scientific Advisory Board Simone Rehm (Univ. Stuttgart), Dame Wendy Hall (Past ACM President), Thomas Lengauer (MPI Informatik), Oussama Khatib (Stanford Univ.), and Gerhard Fischer (Univ. Colorado Boulder) — Foto: Juri Küstenmacher.